As accessible towns on the river can be scarce in the Delta, we decided to page through the Lower River maps to get a better sense of what towns are close to the water. It was December when we did this. 12-12-12, specifically. Hurricane Sandy had just happened and we had the 12 12 12 concert for Sandy relief streaming live in the background. I flipped the map over to chart 35, which shows the town of Rosedale. "Rosedale!" Dave said, "That's where Robert Johnson sold his soul to the devil!"
That second, I mean that second, Eric Clapton played the opening riff to his version of Crossroad Blues onstage at Madison Square. I'm not particularly superstitious, but I think I had to put the maps down for a few minutes. I'm still not sure what to take away from the whole thing, but we decided we had to get to the Crossroads.
Easier said than done. The Crossroads myth is a slippery one. Many historians feel confident that it's a story Johnson never told about himself, and it seems likely that if he felt that he'd sold his soul to the devil it had to do with the fact that he was playing secular music, which was scandalous to many Delta residents at the time, not that he'd entered into some Faustian contract. Some sources claim white writers first popularized the tale in articles on the Delta blues. Others claim contemporaries of Johnson's began telling the story after his death.
To muddy the waters further (see what I did there?) next to nothing is known with any certainty about Johnson's life, let alone about the origins of the story of his pact with the devil, which makes him seem all the more mysterious. Although it's probably not surprising, as he was a man who was born in a poor area in a much less literate time period. To add fuel to the fire he is a member of the 27 Club, died under mysterious circumstances, and he supposedly would practice in graveyards.
Not surprisingly, the Crossroads itself is hard to find. Several towns claim the Crossroads for different reasons. Rosedale is largely thought to be the Crossroads because of the Clapton version of Johnson's Crossroad Blues. But interestingly, if you look at Johnson's original, no mention of Rosedale is made. Clapton's version removes the lines "Standin at the crossroad baby, risin sun goin down/I believe to my soul now, poor Bob is sinkin down" and "I went to the crossroad baby I looked east and west/Lord, I didn't have no sweet woman oh-well babe, in my distress" and adds "I'm going down to Rosedale, take my rider by my side/You can still barrelhouse, baby, on the riverside," a line that's actually from Johnson's Traveling Riverside Blues, this blog's namesake.
Looking at Johnson's version of the song it's not at all clear what the singer is feeling (aside from the blues). It could be about being afraid of the powerful demon he knows he will meet at the crossroads after dark. But it could also be about being lonely and wanting a woman. Also very likely, it could be about being a young black man who needs a ride because he's afraid of being caught out after dark in 1930s rural Mississippi, a possible meaning that is lost in Clapton's version, obviously.
Which brings us (literally) to Clarksdale.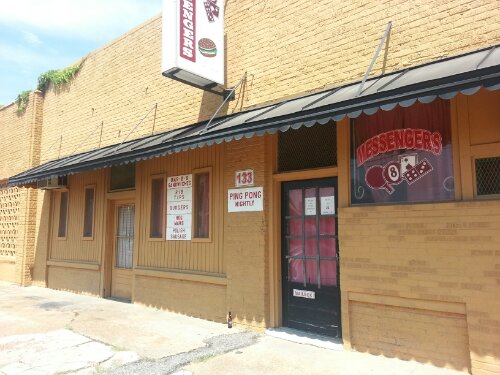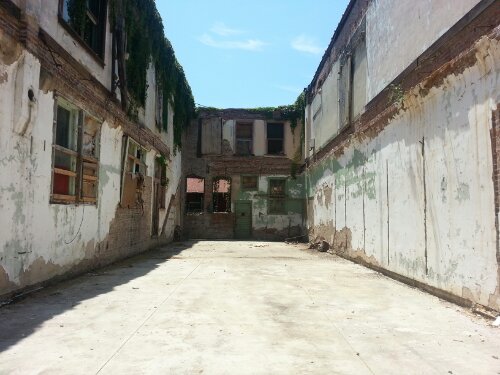 Clarksdale also claims to be the Crossroads, a claim that gathers most of its legitimacy from this sign.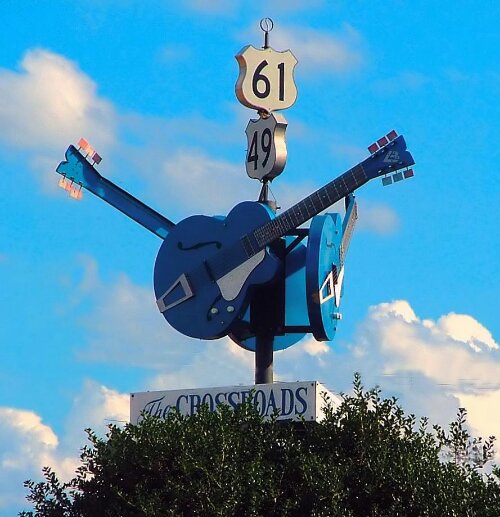 We called John Ruskey, Lower River paddler, painter, musician and owner of Quapaw Canoe Outfitter as soon as we got to Helena, AR and asked if there was a way to get to Clarksdale. Turns out he lives there and it's the main branch of Quapaw. So we've been staying in the youth hostel in the main building, which boasts four hammocks and a swing bed.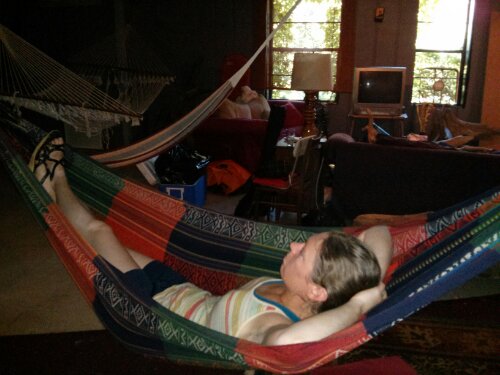 We've also hit everything one should hit in Clarksdale. The Delta Blues Museum (where you are not allowed to take pictures) and the juke joints, where last night we saw Watermelon Slim, who was taught by George Mayweather, who in turn was taught by Muddy Waters.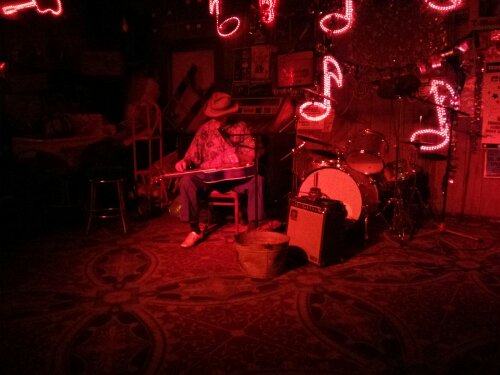 Clarksdale has seen better days, no doubt, but there's some revitalization going on. Thanks to John himself, for one, and also people like the owners of Oxbow Cafe.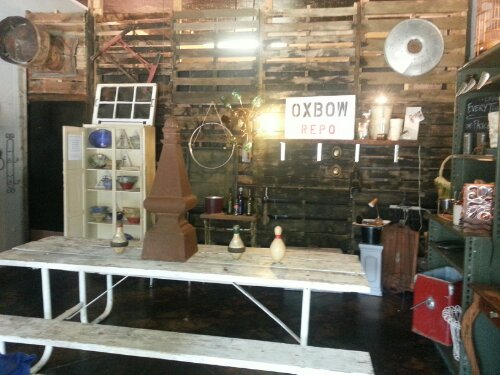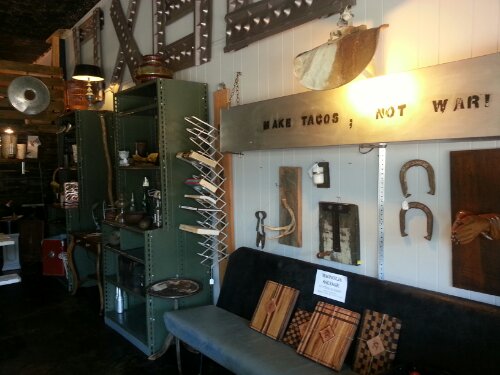 I also have to say Clarksdale is an incredibly friendly place. More people have said hi on the street than not. And I can also tell you that if you stand in front of Cutz on Yazoo Ave long enough an employee might just drive by and open the place up to give you a haircut.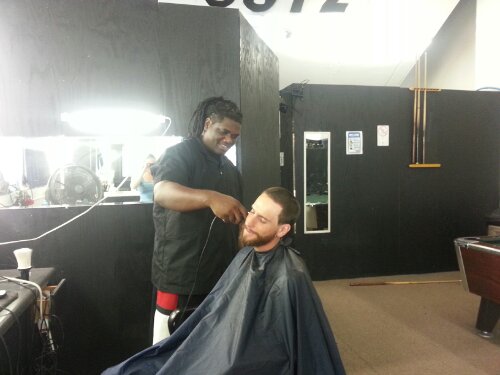 Leaving the blues museum a man in a car flagged us down and asked "Didn't I see you at Red's last night?" His name turned out to be Josh Razorblade Stewart and he had played that night as well, though we'd missed him. He tried to talk us into buying one of his CDs but after we explained we'd canoed to Clarksdale and didn't have a CD player he gave it to us. Then he asked if we'd heard of Robert Johnson's Crossroads. Have we?
He explained he had his own. He drew a dollar sign on a piece of paper. The "s" is a snake, he explained. The lower left end is the tail, the upper right the head. The three times it crosses the straight lines are the three crossroads of a life, in a person's 20s, 40s and 60s. He'd passed the 60s crossroads, he said, but wasn't ready for the mouth of the snake yet. And thanks to him, we've had our own crossroads experience. Delta win.