In case you haven't heard, Iowa is flooded. The National Weather Service is using language like "major flood levels."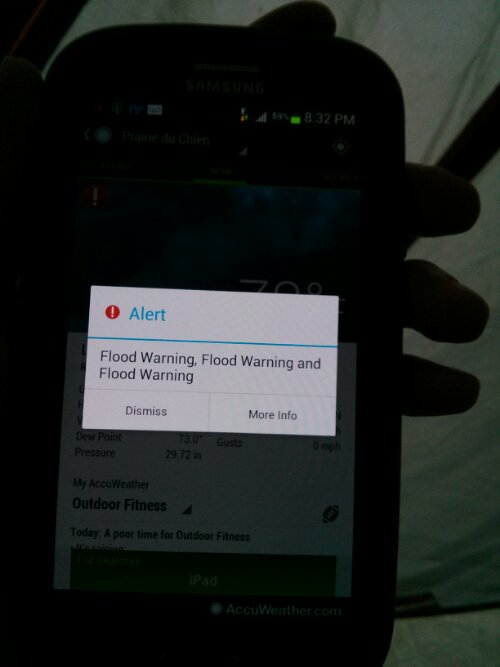 The good news: the current is fast and we are making good time. We've even had a tailwind sometimes.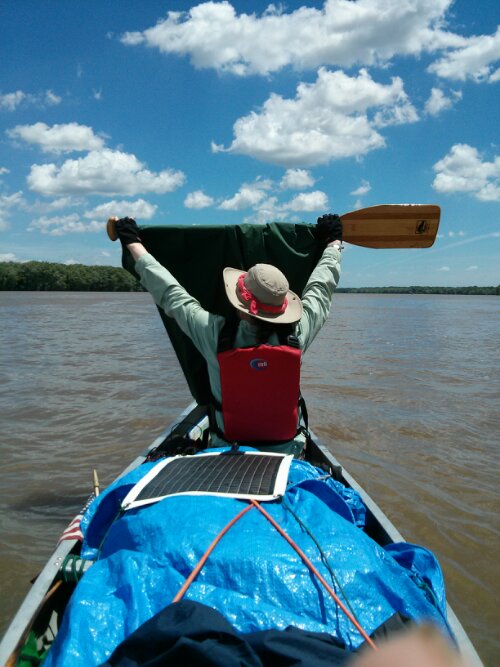 The bad news is everything is underwater. Campsites, campgrounds, towns. So we start each day wondering if we'll be able to find a place to stay the night.
Thursday we were sort of trapped in a Wisconsin town I'll not name here. We ended up at the only motel where we watched a mouse sprint across the floor while the manager tried to get the credit card machine to work, and a bug that looked like a flea jumped onto Linnea's back.
Other days were better, largely due to more generous people we've met. Friday we parked at a sandbar outside of East Dubuque, Il, which seemed to be the wrong side of the tracks. (Fun fact, we learned from two other Iowans that it is.) We decided to walk two miles into Dubuque, which turned out to be a boon for our spirits because we got to ride the Fenelon Place Elevator, the world's shortest, steepest cablecar.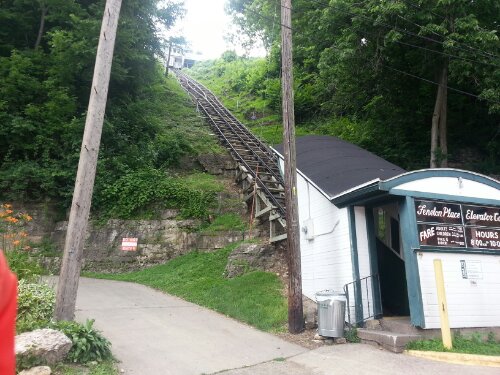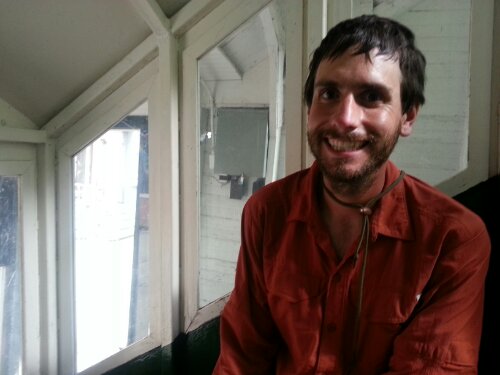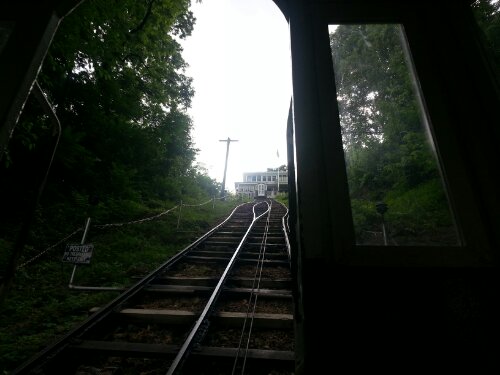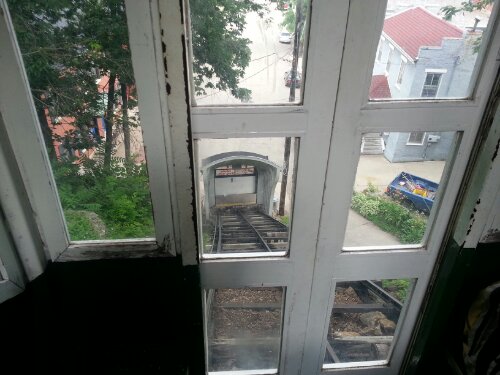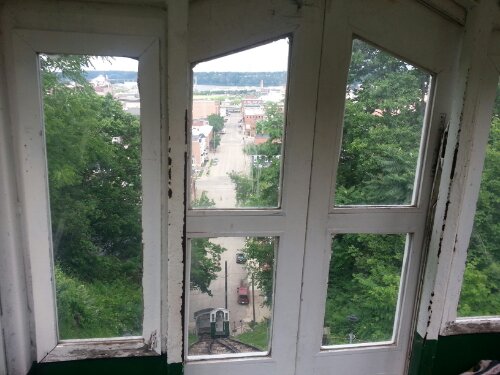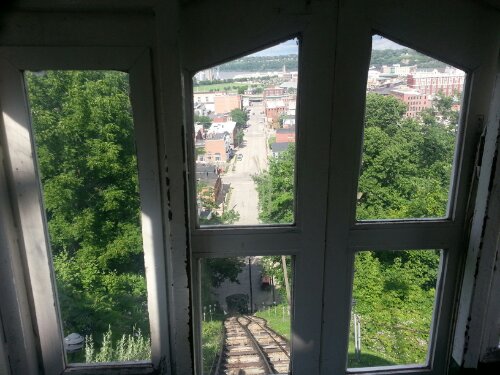 At the top we meet T. (who introduced herself as T. but we forgot to ask about the spelling). She grabbed a beer with us and offered us a ride back to East Dubuque.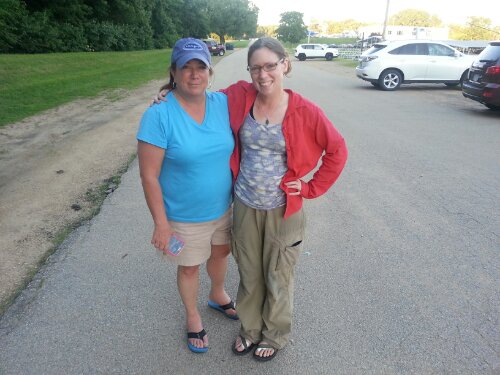 Saturday we finally met somebody we've been corresponding for almost a month. Stan Cornelius, who with his brother is currently pimping out a pontoon to take down the Mississippi, up the Ohio and up the Tennessee to his winter home in Florence, AL. Stan and his brother met us at a boat ramp in Bellevue, IA, took us to a grocery store, bought us lunch and drove us to Bellevue State Park, which is high on a bluff, making it one of the few campgrounds that's not underwater.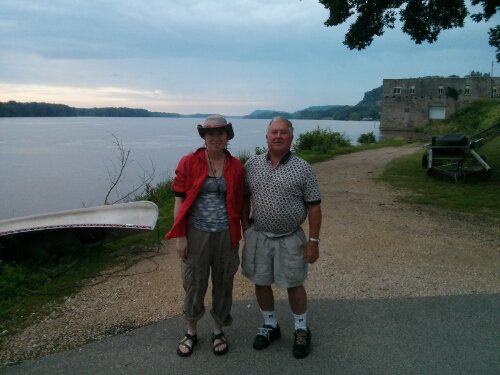 We're excited to follow their trip on their blog, and we're a little jealous since they won't need to find a place to camp every night.
Yesterday while having lunch at a boat ramp in Clinton, IA, a local told us about the one nearby sandbar still above water, dubbed Coney Island, where he was headed to hang out with some friends. Without any other place to go, we showed up there after finishing lunch and crashed their party. They were awesome and a welcome break from the many days of solitude we've had on this trip.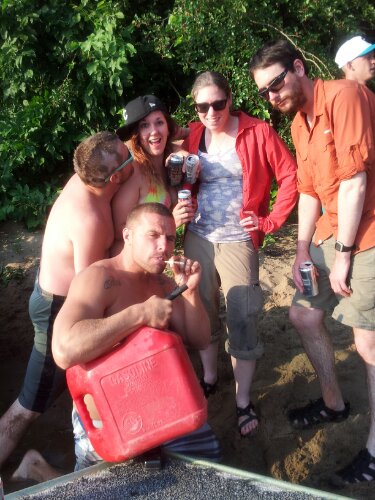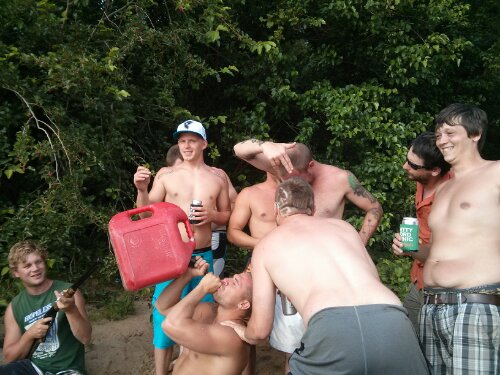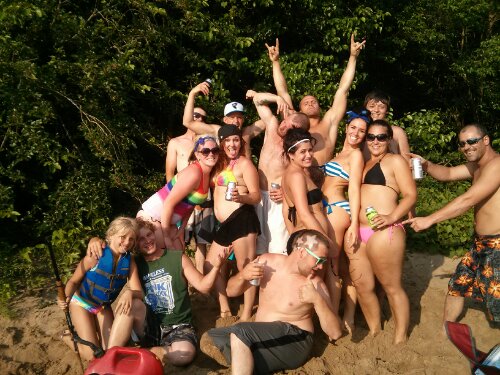 After these pictures were taken, somebody said, "Great, they're going to put these pictures up and say, 'Look at these crazy people in Iowa.'" Um, said the girl hanging out on the beach to the two smelly crashers who showed up in a canoe. The guy who has stars shaved into his head has "Merica" on the other side. I think he has a picture of the two of us with him. If someone has that pic, we'd love to have it.
Today we've had a lot of ups and downs. We made good time, stopped in Le Claire to check out the Buffalo Bill Museum and the American Pickers shop. Frankly, if you're in Le Claire I'd recommend going to the Buffalo Bill museum first where you can see this badger.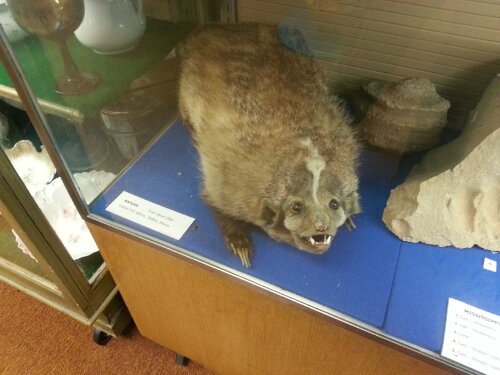 The American Pickers shop did have this cool bumper boat though.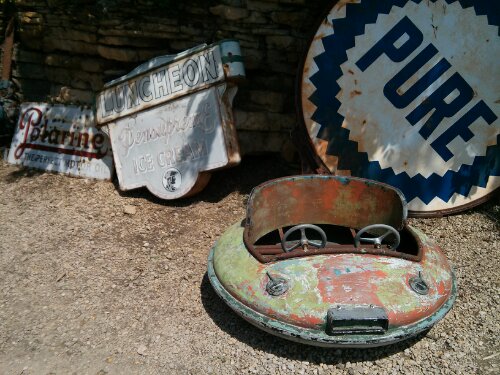 Just after Le Claire we found out from the Lock 14 lockmaster that locks 16 and 17 are closed indefinitely. We did what you should always do when you're at a loss. Dock at the casino-marina in the Quad Cities. Here's a view from our hotel. Bonus if you can find our canoe.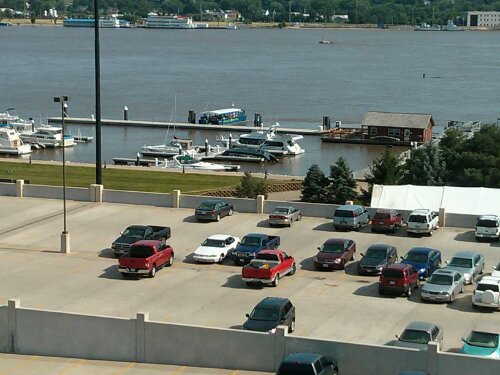 So now we are at a crossroads. The crossroads (the mythical crossroads where Robert Johnson sold his soul) has a significance to our trip that we will maybe explain in a later post. But funnily enough, now that we face a hard choice about what direction to take, it has come up twice. Last night one of the guys kept mentioning how the trip would take us down past the alleged location of the crossroads and today, as we were walking out of the casino buffet room, the musicians started playing Clapton's version of Crossroads.
The choice we face now is what to do about the fact that we seem to be riding the wave of floodwaters down the Mississippi. We can either keep going and keep taking the risk that we won't find a place to stop everyday, find a place to hide out for about a week and wait for the flood to recede or skip hundreds of miles to try and get ahead of the flood. A sobering decision indeed. We'll leave you with this piece of advice from Buffalo Bill, which is Linnea's new modus operandi, and how she'd like to think about this trip from now on.