I meant to post on the blog this morning but it was raining too hard to get my phone out. To NOAA, a "40% chance of rain" apparently means it will downpour for 3 hours. It has rained a lot on this trip. A lot. Let's not speak any more of it.
The most notable thing about the river at this point is the portages. The companies orm cities or counties that own the dams on the river, like the Little Falls dam here, are required by law to provide a canoe portage around them.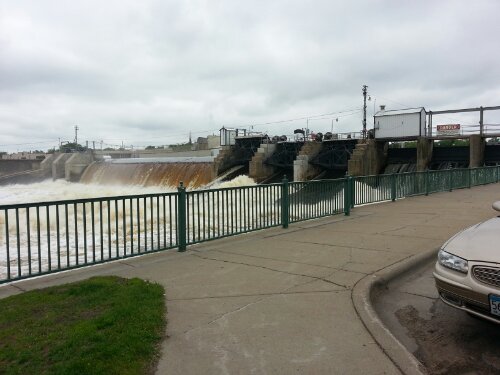 Some groups take this responsibility more seriously than others.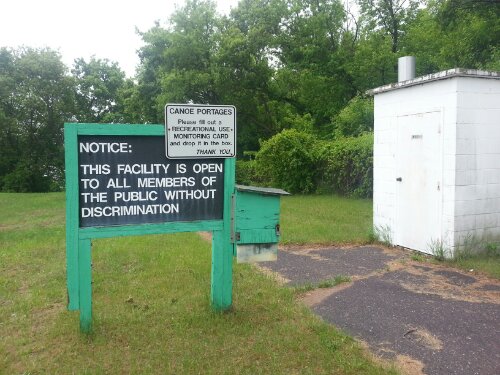 Some portages have ramps on either side and and a flat paved road in between. Some do not. Some of them send you really mixed messages.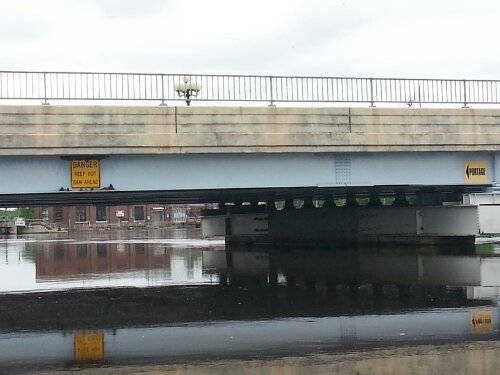 My dad saw the note about rugged terrain at the Royalton dam and was nice enough to help us move our gear and canoe with his car. The spot to put in was so close to the dam the waves from the outflow bucked the canoe so hard we could barely load it. My dad then watched with a sort stricken look as we paddled into the surge.
The put-in at the Sartell dam was worse. As a kind commenter warned us, it was a jagged rock path into the water, which was raging so hard the waves nearly knocked me over while I tried to hold the canoe. The dam was so close we could feel the spray. We did what we could to aim between the rocks on the shore and the roiling mass of brown foam and 3 foot waves in the center of the channel. There was some screaming but we managed.
Then we cheated. In a happy coincidence, my dad happened to be driving down Highway 10 and we decided to skip the eponymous Sauk Rapids. Then, because we don't hate ourselves, we put back in 4 miles later past the St. Cloud dam, which we also would've had to portage. So we got a ride from my dad three days in a row. We owe a car wash and a lot of gas money.
It's hard to know how dangerous those rapids really were, or the Sartell dam for that matter. The rapids had looked pretty difficult and fast to us, but as we were waiting for my dad at the boat ramp above them a guy on a bike and another guy with a little dog went on about how they'd run the rapids before and how with this high water we'd probably just float over them. Which had us feeling a little silly until two National Guardsmen hustled up to us at the boat ramp past the rapids and St. Cloud dam and warned us that the water was fast and dangerous, and that there were rocks, and he'd never put his kayak in here with the water like this. The whole thing affirmed a piece of advice we'd gotten early on: trust your own instincts, maps and experience, because people will tell you wildly divergent things.
A lot has happened in the past week apart from the portages. The river has been a lot less wild since Brainerd. Riverbanks are generally developed with fancy homes — the riverfront along here is expensive property, whereas upriver we canoed past farmland and houses that looked a lot more dumpy. With people and development has come a lot more noise. We've seen more people mowing lawns in the past couple days than we've doing all other activities combined, and you can hear every lawnmower a mile away.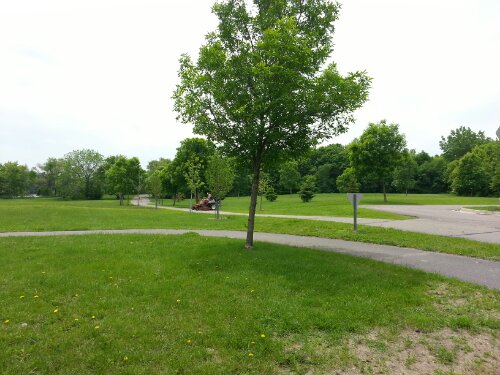 But nothing was louder than Camp Ripley, which literally sounded like a war zone the Monday we paddled through.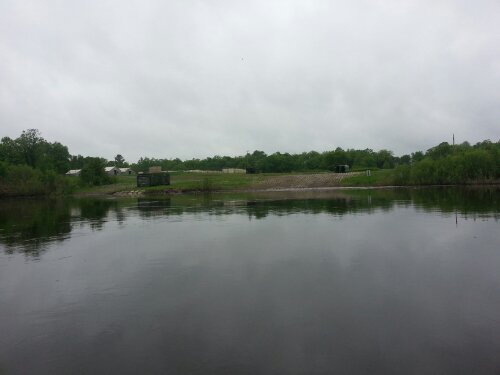 We also got to spend a desperately needed rest day last Saturday at my parents' cabin, because my parents we nice enough to pick us up, make us food and drive us around Brainerd to resupply. We happened to come to the cabin the same weekend my dad, uncles and cousin were coming back from a fishing trip in Canada, so I got the bonus of seeing some extended family as well. So we haven't been roughing it every day.
Now we are just 35 river miles from home. It feels weird to be hanging a bear bag at a "primitive"-designated campsite just a stone's throw from Anoka. If everything goes according to plan tomorrow we should be crossing under the Stone Arch Bridge in Minneapolis around 4 PM tomorrow. Which we are very, very excited about. Because it has been raining a lot.