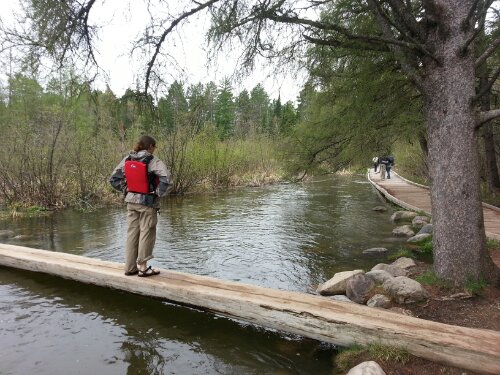 The very beginning of the trip was lovely. Both sets of parents, Dave's brother Eric, sister in law Allison, and friends Dana and Jay came to Itasca to see us off and sip some champagne as we push off in Lake Itasca.
Then things got rough.
The high water on the river makes a number of things a challenge, in particular steering at the very beginning when the river is extremely narrow. The hairpin turns at the beginning of the river are nearly impossible to navigate with a fast current. Often we would make the turn only to careen into the branches of the plant on the opposite bank. We were clotheslined so hard a few times the canoe nearly went on without one of us. And some of this happened with a gang of tourists watching. With the water so high we were barely able to fit under the second bridge after the official headwaters marker. Some tourist helped us by holding our bow rope as we tried to fit underneath and after word that out that we were headed to New Orleans they started taking pictures of us as we ricocheted off banks on our way down the river.
Shortly after this came the three straight miles of rapids. The high water and breakneck current made the normally class 1 rapids a terrifying experience. Rocks sped up too fast to turn around them. We had maybe a 60 percent success rate in avoiding rocks and downed trees. And the wind storms from last summer left trees strewn across the stream and added six new portages to what was supposed to be a one portage day. The one bright spot was when we met a stranger named Mark who asked where we were going. When we said New Orleans he immediately took off his hat, what happened to say New Orleans French Quarter, and handed it to me. Then on the first of the surprise portages he helped us flip our canoe around so we could get past the fallen log.
Things seemed to look brighter once we were past the rapids area. The river wound through a marsh full of orioles, goldfinches and red-winged blackbirds. Everything seems to be going well until we realize the stream we were on was slowly getting smaller and reached a dead end. Somehow we had lost the Mississippi and we're stuck in a trackless swamp. Getting back on track involved a (7th) 300-foot portage through mud and marsh grass.
The next day things got easier. We wound through more marshes but managed to get only minorly lost this time. We even managed to navigate a winding and shifting bog, about which the DNR says, "Caution: Call the regional DNR office to determine conditions before planning a trip."
Yesterday, on day three, we got an earlier start. Now the river was beginning to have farmland and homes in places. This can be both good and bad, we found. Many people smiled and waved, but as we passed one house a pair of big dogs came tearing across the yard and even plunged into the water to swim after our canoe a few yards.
Despite more downed trees and other surprise challenges we made it to Bemidji by 1 PM. We had a lunch at a pizza buffet and were in good spirits, but we came back to find that the wind had picked up and our canoe was completey swamped. Everything was wet. Everything. We ended up calling a cab and staying in a Super 8, where we strung up a clothesline and did all the dishes in the bathroom.
This morning we took a cab back to the Bemidji tourism office, where we had left our canoe overnight. Thanks to the wonderful employees there who let us store it alongside their displays. Before we took off, a camera person from Valley News Live saw us and interviewed us for a segment on the nightly news. So watch for us if you can tune in Valley News Live. We are now 10 miles behind but we hope to catch up tomorrow.
UPDATE:
Here's the video of us on Valley News Live.