We decided to make a 170 mile portage from the Quad Cities to Hannibal, MO. It was a really hard decision. We could have paid for a hotel for a week waiting and hoping for the marginally improved conditions NOAA claimed are coming. And we could have just pressed onward, portaging up and down rock levees around closed locks and trying to find dry land in flooded woods to sleep on. Instead, since we have awesome friends who were free the last two days, we skipped part of the river.

We really had the worst timing possible and seem to be riding, essentially, the crest of the flood. The purple dots in this screenshot from the 2nd?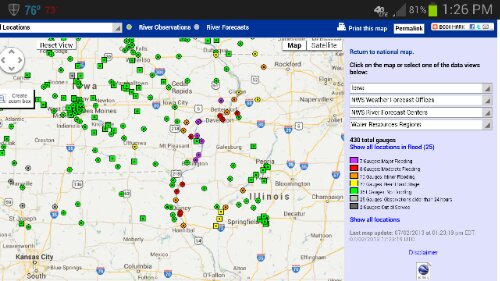 Davenport is right at the beginning of them. And in Davenport, where the flooding was only moderate, the brewpub we wanted to go to for dinner was closed because its street looked like this…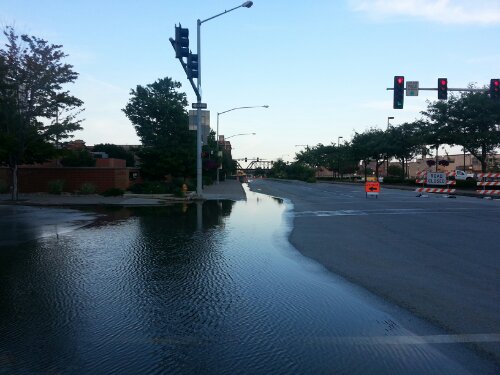 The floodgates are closed in Hannibal…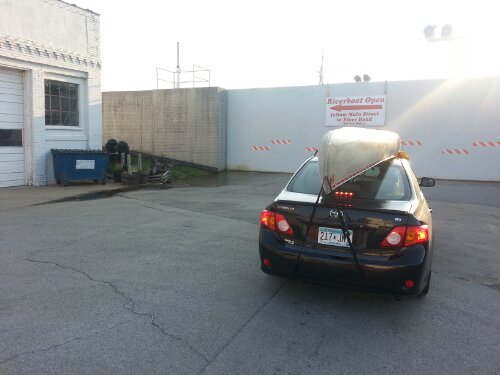 and Clarksville, MO, where we spent Independence Day, is sandbagged.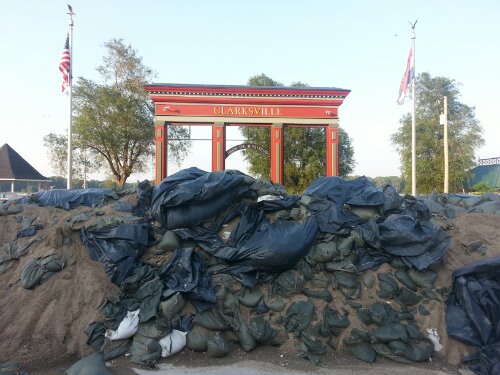 And these are towns with "moderate" flooding, not "major."
But as we said, it was a really hard decision. It's deeply dissatisfying to set out to canoe a whole river and then not. We still feel somewhat conflicted. What it ultimately was was a matter of how much we wanted to put ourselves through. I was feeling crappy about our decision when I read the blog post of another thru-paddling group who are on about the same schedule we are and who continued through the flood. About the past few days they said, "The past couple days the sun has finally come out. Yesterday we tied our canoes together and set up a sail with a tarp and paddles. We cruised, it was epic. Then we all jumped in the water and later that night enjoyed some stellar Mac and cheese." Which made me feel like maybe we just should have been braver and should have continued.
Then I read this:
"Molly had to stop at the doctor and get a steroid shot for her chiggers, which have unfortunately taken a turn for the worse. Leif's pink eye seems to be improving and Hurrikane's cuts are pretty much healed though so things are looking up."
Some people are just more determined than others, I guess. So instead of following suit, we roadtripped along the river, stopping at all the landmarks we planned to hit along the way.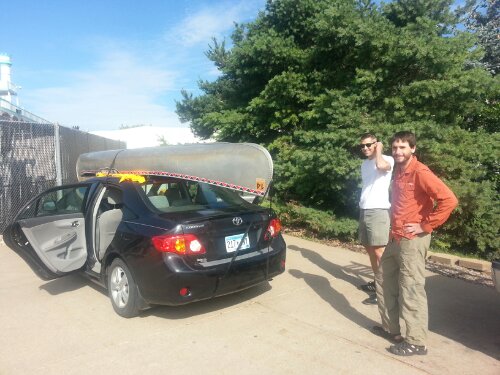 Like the elephant memorial of Oquawka, IL, the gravesite of the late Norma Jean Elephant, who died in Oquakwa from a lightning strike when her circus was in town.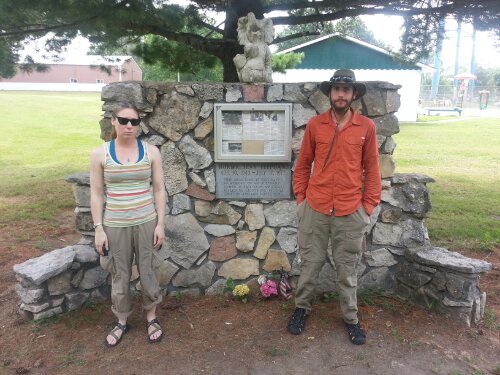 And Snake Alley (the world's windiest alley!) In Burlington, IA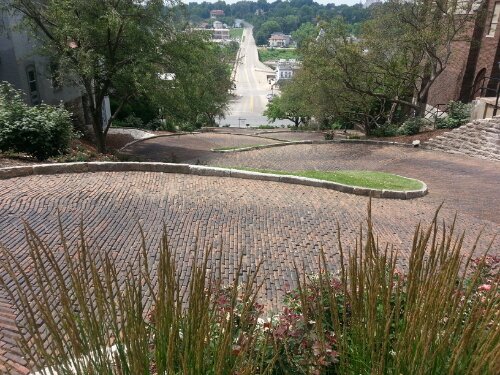 And the early Mormon settlement of Nauvoo, IL, not pictured here because there was a lot more in the way of demonstrations of pioneer life and really eatnest volunteers eager to engage all tourists than great photo opportunities.
We really owe Dana and Jay quite a lot. Not only have driven down to meet us on the river twice, they quite possibly saved our trip. And Jay, who happens to be an editor for the Twin Cities Daily Planet, wrote a dispatch from the river about our predicament. They truly live the words of Wade Meloan, creator and builder of the Oquakwa elephant memorial: "If you can't go through life helping people — even if it's an old dead elephant — then there's no use being here." Here's us partying at the Isle of Capri casino hotel.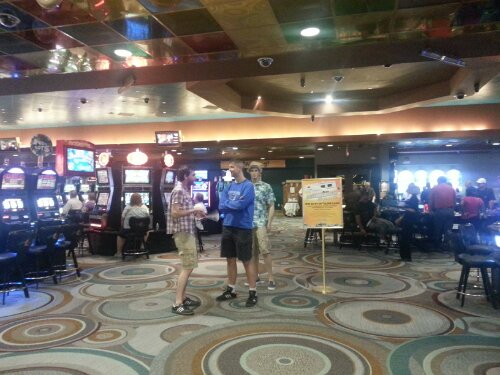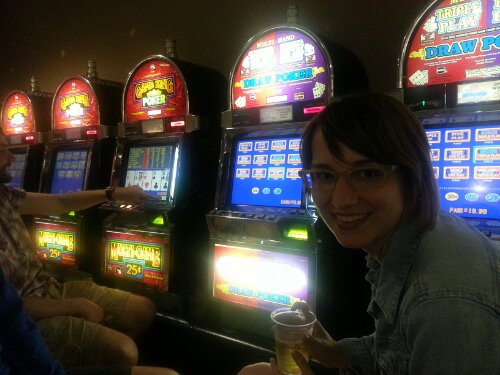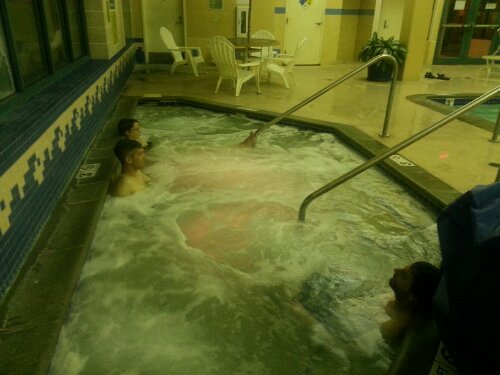 Hotel party + roadtrip beats major flooding, easy.