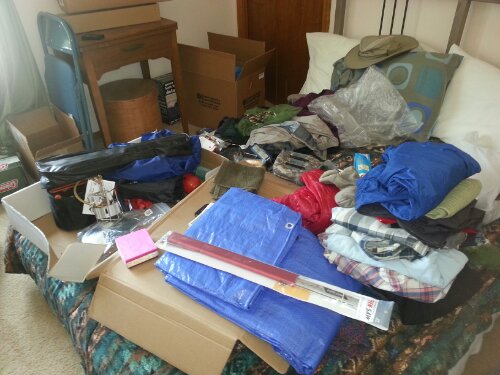 Yesterday we found out whether we could actually fit all this stuff in a canoe. The answer was no. (Back to REI with you, Camp Time Roll-A-Table.) Yesterday we spent about 6 hours shopping, shoving things into dry bags and carrying backpacks upstairs and downstairs and back up again. Today we spent 10 hours registering a canoe, going to REI (twice, technically) and the hardware store, figuring out how to use all this gear, and shoving things into dry bags again.
This trip is an unimaginable amount of work. Hundreds of hours of work. There are five Google Documents and a to-do list over 30 items long. I wanted to do a better job of documenting this preparation process but there hasn't really been time for it. We've been too caught up trying to figure out how to seal a Seal Line bag, segmenting ropes and agonizing over canoe paddles. Bent or straight? BENT OR STRAIGHT?
Below is some progress. See you in three days, Lake Itasca.