Right now I'm sitting by the pool on the 8th floor of the Econolodge hotel/parking garage in downtown Memphis, waiting for the chicken and waffles lunch to settle, and life is good.
Earlier this week, with a few long days of paddling in tough winds, we finally decided to have a new mindset about the trip, mostly that we gots to chill more. Although we did almost immediately break this rule by racing to Memphis (we were excited for barbecue and blues, so can you blame us?), but from now on we plan to take things easier and, you know, go with the flow.
Right about the time we decided this, we ran into fellow adventurers Russ and Cap, who seem to naturally take this mindset to heart. We camped with them for two nights, enjoyed an amazing sunset, played music, sat around a fire smoking, listened to country music on the AM/FM radio they brought, passed the whiskey bottle around, complained about modern top 40 country and generally relaxed. We plan on having more nights like that from here on out.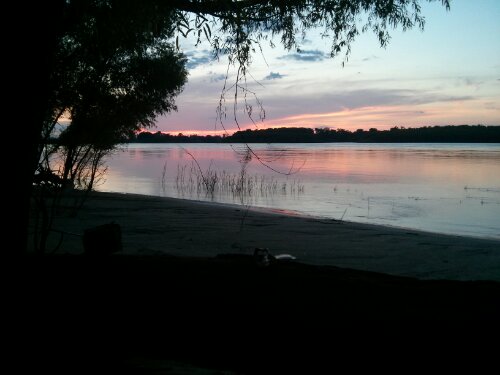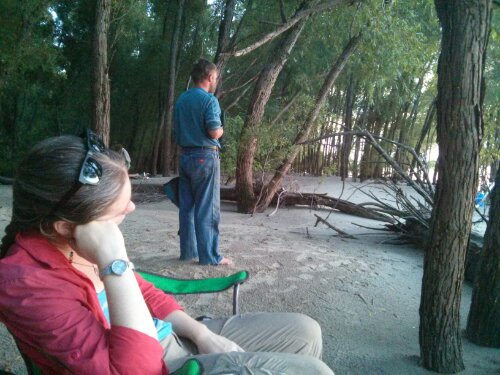 But as I mentioned earlier, we couldn't help but power through till we got to Memphis. On the way, we encountered a few obstacles that slowed us down a bit. Linnea got windburn so bad she developed blisters on her lips as big around as Crayola markers. It was, in her words, "one of the grosser things my body has ever done." But to keep it from happening again she developed a new look.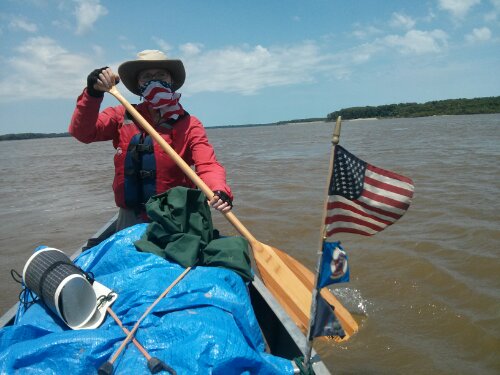 Yesterday a giant dredging boat took up nearly the whole channel at one spot and a bunch of tows were coming up river, though we were able to sneak past by taking a back channel.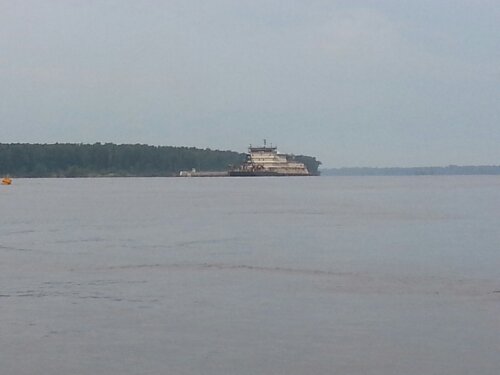 Later down the river when a Coast Guard boat and a tow approached each other, the Coast Guard boat unexpectedly turned around and came within 100 feet of us, causing us to bolt for shore. It is unclear why. Because they forgot we announced our presence on our radio? They couldn't see us? To scare us? Because we're dressed so weird and they wanted to get a better look? We'll never know because then they unexpectedly turned again up the shore. To do something very important, no doubt. We have no picture of this because we were trying to get the heck out of the way.
Another time we were hugging the shoreline inside the channel on the outside of a long bend and tows started approaching us from in front and behind. We radioed them to give them our position — one said we were safe where we were — but eventually we noticed that both had stopped moving. We were confused about what they were doing so we also held up right by shore, and what commenced was a three-way standoff between two huge tows and a tiny canoe. Finally, one of the tows radioed the other and it became clear they were each waiting for the other to pass.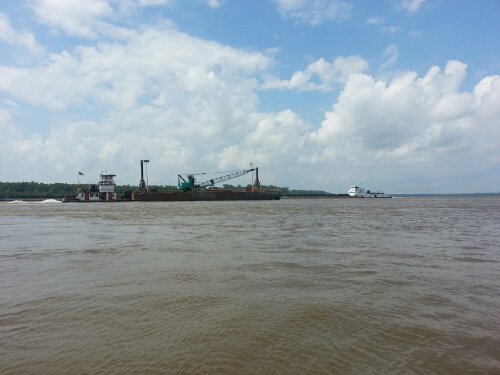 Now our canoe is safely docked thanks to the friendly staff at Mud Island Marina, and we're restocked with groceries and a new sleeping pad for Linnea (her third since the start of the trip) thanks to Memphis paddler and backpacker Deena, who also took us through Memphis' huge new urban park and its buffalo herd.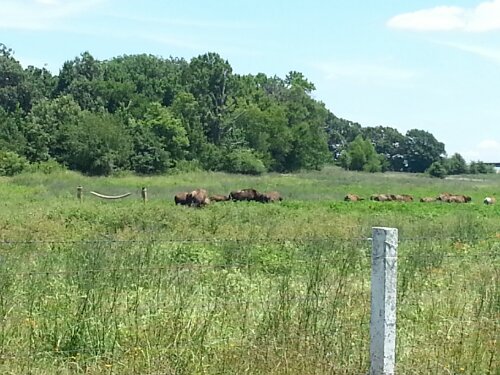 We'll be hitting Beale Street for the second night, this time with Russ and Cap, who got into Memphis today. After a night of Big Ass Beers and more barbecue, we hope to get back on the river tomorrow, though that may prove difficult.