83 days, about 1,920 miles, 2 rivers, 10 states, 4 bottles of whiskey, 5 rain coats, 5 pairs of sunglasses, 6 air mattresses, 1 bear, 8 gators and approximately 800 mosquito bites later, our adventure is over. We paddled into our final destination, Morgan City, LA, at noon today.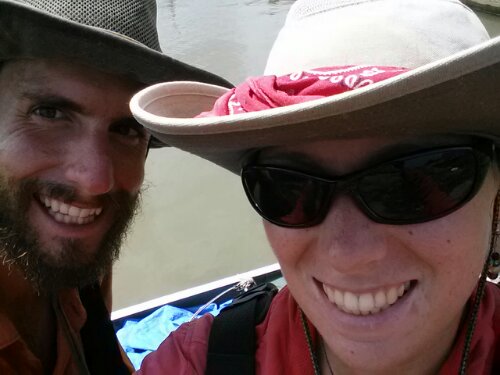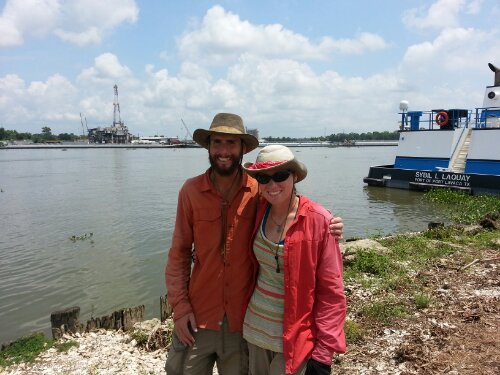 The things we're primarily feeling right now are joy and relief. There's a lot to be excited about with the trip ending, like:
not paddling about 30 miles everyday
not being covered in sand or having sand in our food
not living outside rain or shine, severe storm or heat advisory
people not asking about Linnea's elbow all the time
not smelling like an old gym bag
partying in New Orleans!
Although this trip has been very difficult and we're glad it's come to an end, living out of our canoe has been our lives for going on three months. We don't know what it will be like to suddenly not see the sunrise every morning, not take a granola bar break together at 9 AM every morning and not play music while sun sets over the Mississippi. A vacation for a week or two isn't long enough to significantly change a person's habits or even sense of self, but three months spent poring over Army Corps navigational charts and paddling with people we've never met and through places we've seen only on a map, definitely is. It's going to be a strange adjustment to go back to the real world.
The trip ended, strangely like it began, with a smaller river (the Atchafalaya is not nearly as wide as the Lower Mississippi), bad mosquitoes and more rain than we needed. But the people on the Atchafalaya have been amazing. Our second night we stayed at Atchafalaya Campground, where the manager, Tammy, and her boyfriend and friends treated us to beers and were a very kind audience for our banjo playing and singing. The conversation turned to Cajun food, and when we mentioned we had boudin in Mississippi, it was met with loud protest. They immediately called Tammy's son Trent, who had gone to town, and ordered a feast of boudin and cracklins, saying "If you had boudin in Mississippi you did not have boudin."
Since it's been raining we couldn't take many pictures, but we did manage to get:
These pictures of some Atchafalaya homes and former homes: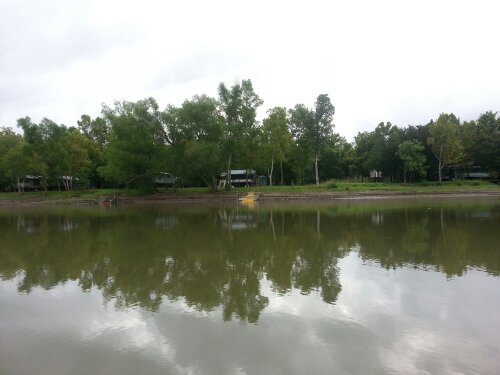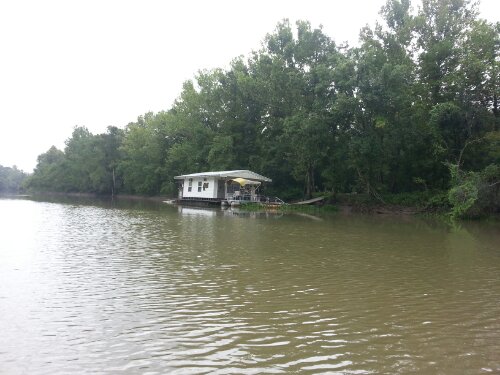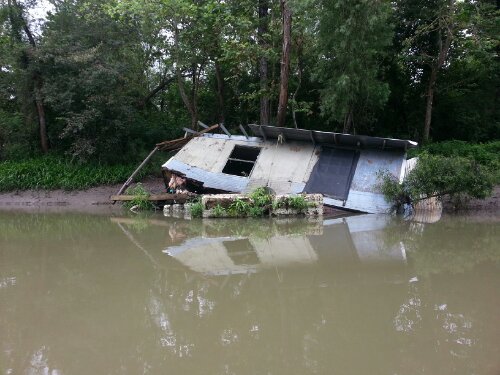 And these pictures of things looking real swampy: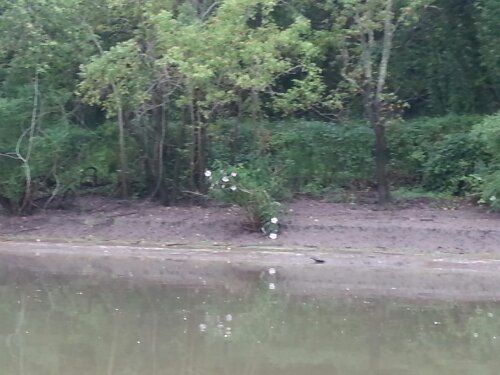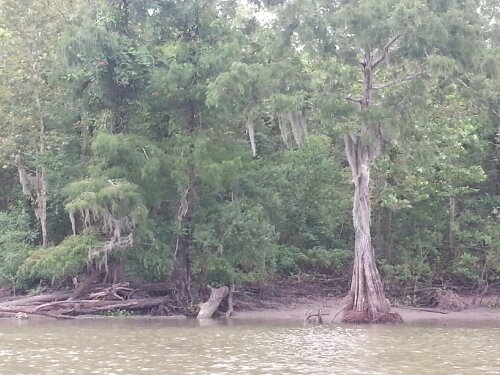 We swear there's a gator in this picture (you can kind of make out its head):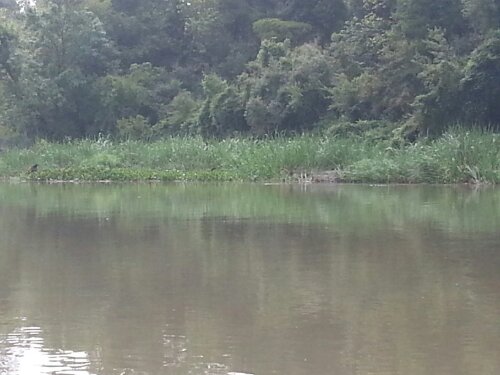 And us today at the end, where we tried to help someone erect the rigging on their new shrimping boat!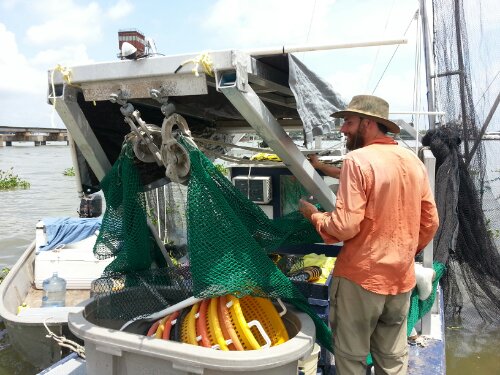 And we should also tell the story of the duck.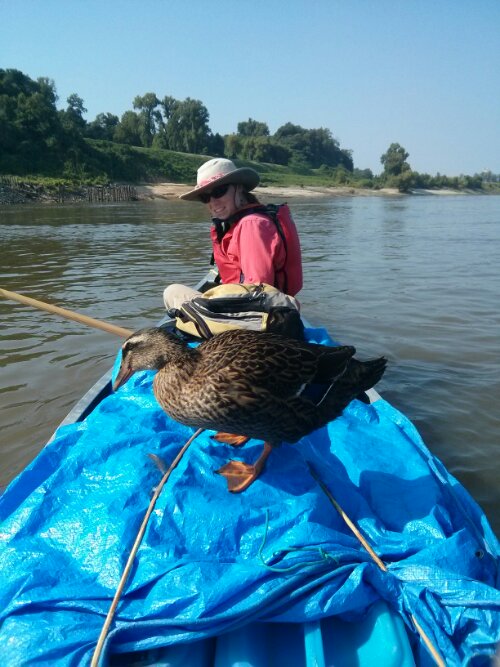 This duck flew out from the riverbank, landed 10 feet from our canoe, hopped in and made herself at home on our tarp. The day before, we had met John Lawrence Kanazawa Jolley, who was sitting on the riverbank as we passed on the way to Natchez. When we got to the Natchez Under the Hill Saloon later that day, the bartender mentioned that John had been around several days, she thought because he was looking for his duck that he had lost. We weren't sure whether the duck would go away if we had ignored her, or if she could feed herself, so we decided we better return her. The people at Natchez Under the Hill sent John to a boat ramp to meet us down river.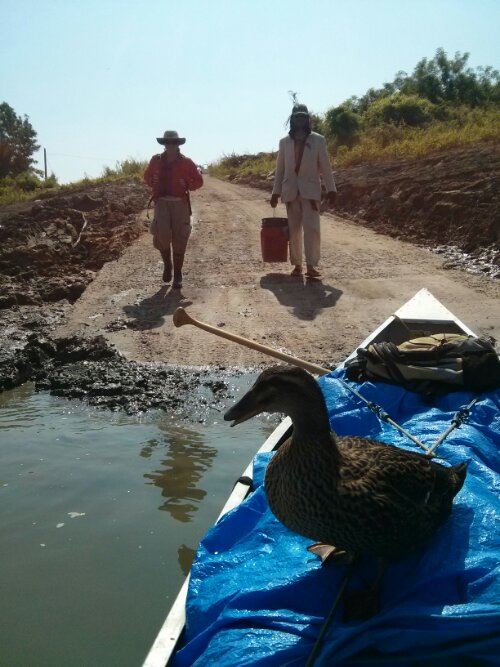 You decide if this is a picture from that event, or a still from a Wes Anderson movie. It's the people you meet who turn out to be the most memorable part of a trip like this.
But seriously speaking, we honestly couldn't have made it all the way down here without the help of many people. There's Justin Staker, who was one of the first people we talked to who's paddled the river (and he suggested the Atchafalaya as an alternate route to cancer alley). He's been an amazing source of information and encouragement throughout the trip. There's Robert from Andy Mountain Campground, Deb from the Bettendorf Isle of Capri marina, and our friends Dana and Jay who helped us make it through the flooding and storms in Iowa. Fitz let us stay in his apartment in St. Louis for a week when we needed a break. Then there are people like Sandy of Miss Martha's from Hickman, KY and Tammy of the Atchafalaya Campground who we came to after having really bad days and who gave our spirits a necessary boost. John Ruskey of Quapaw and Mike Clark of Big Muddy, Mississippi paddlers extraordinaire, housed us and fixed Dave's stroke to get rid of shoulder pain, which basically made the last four days paddling in slow current possible. And Alex who drove across the country to pick us and our canoe up in Morgan City.
Then there were all of the river angels we encountered along the way, who helped us resupply, find us a shower, and sometimes offer us a place to sleep: Mark from the Twin Cities, Danny in Cape Girardau, Stan and Milt Cornelius of rivertrip13,
Layne in Vicksburg, Philip and Rebekah in Greenville, Deena in Memphis, T in Dubuque, Toni in Clarksville, a half dozen members of the Mason family in Wisconsin and Iowa, the Natchez Under the Hill Saloon crew, Bert in Winona and John in La Crosse of the Mississippi River Paddlers Facebook group.
And last but not least, our parents, who got us to Itasca, stored our gear, shuttled us in Minneapolis, Brainerd, Sauk Rapids and Royalton, and endured the idea of their children doing the length of the Mississippi in a canoe.
It hasn't really sunk in that this trip is over yet. All in all it's been an incredible, absurd, frustrating, transformative and epic adventure. And now it's time to party in New Orleans.