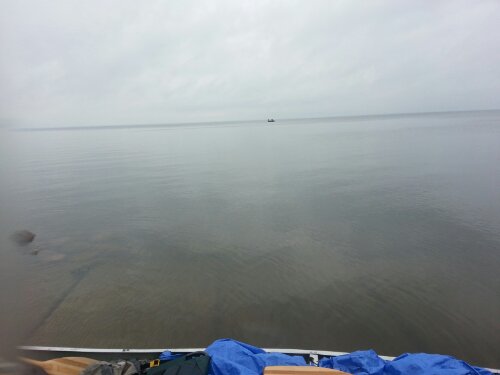 So far this trip has been hard. Back-breakingly, joint-shreddingly hard. Today was maybe the hardest day yet. At least for me. Dave seems fine. Today it took from 7 a.m. to 4 p.m. to cross Lake Winnibigoshish, Minnesota's 4th-largest inland lake.
But there were bright spots before today.

Yesterday we paddled 17 miles to the western edge of Winnie and spent the afternoon lounging around. Around early evening we heard voices that sounded close, so we went out to investigate and saw two canoers headed away from us. We flagged them down, figuring they were looking for the campsite we were at. We saw they had a lot of gear so we asked where they were going. "The Gulf," they answered.
There are more of us than people would lead you to believe.
Their names are Matt and Taylor and we spent the night passing around Maker's and Jack Daniel's and Taylor pulled out a backpacking guitar (we're also not the only people to bring instruments, apparently.) We decided to paddle together across Lake Winnie the next day. The crossing was long and monotonous and because of the increasing fog the shoreline receded and it appeared we were moving backward. Even though the weather was a little rainy today, we lucked out because many people have had to wait two or more days for the notorious winds to die down before they could cross.
That's not to say the crossing was easy. Once we reached the far northeastern bay, the winds turned gale force and it was all we could do to fight our way toward the dam we needed to portage around to get back on the river. It seemed to be a struggle every stroke. The winds appeared to come from the dam itself like it wanted to prevent us from crossing.
We were supposed to go 5 more miles to a canoe-only access campsite but a fisherman who had seen Taylor and Matt, who had long since pulled ahead of us, further down the river struggling against even more wind. So we decided to camp at the campground at the dam. We're really sorry to have parted ways with Matt and Taylor. It was great traveling with them and their portable radio tuned to classic rock.
The hosts at this campsite are incredibly nice and lent us there Jeep to pick up our gear at the portage and also to go to the convenience store/liquor store down the road.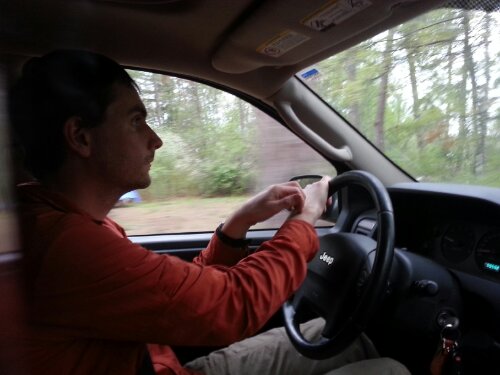 Interestingly, one of the hosts mentioned that about 10 people a year stay here who are heading toward the Gulf.
Tomorrow we plan to have a five mile day to recuperate after Winnie. After that we're officially back on schedule.
In conclusion, here's a picture of some pelicans taking off and a porcupine in a tree: