The idea for this trip was planted about ten years ago, before we were friends. A brilliant way to escape our suburban Minnesota high school, we both thought, would be to just jump on a boat and let the Mississippi River take us down to New Orleans. We resisted the temptation, though, and ended up escaping high school the ordinary way, by graduating.
When we became friends in college, we realized we'd both been planning the same trip independently of each other. We became closer friends poring gear lists and watercraft designs.
We got a lot closer — we're now engaged — and a couple years ago decided the time was ripe for an epic travel adventure. What else could we do but go on the trip we'd both been planning for ten years?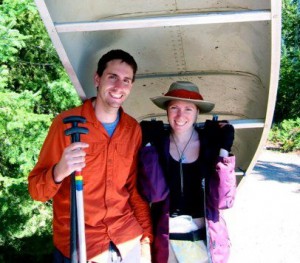 So this trip is finally happening. We'll be setting out by canoe Memorial Day weekend 2013 from Lake Itasca, the official headwaters of the Mississippi River. We'll be camping for the most part and stopping to see the sights in the cities and towns on the way. Hopefully we'll be on Bourbon Street, drink in hand, by late summer. When cell phone coverage permits, we'll be posting about our trip and our adventures here.
If you have any questions about the trip or want to get in touch with us, email us at travelingriversideblog@gmail.com.
Linnea Goderstad grew up in Roseville, MN, about 6.1 miles from the Mississippi River. After high school (mostly in Roseville, a little in Toronto, ON) she went to New York University and has been living in New York City ever since. Since college she's been working in indie film publicity and marketing. She spends her free time doing fairly outdoorsy stuff, as you might have guessed.
David Blomquist also grew up in Roseville, MN, chose his college (the University of St. Thomas) partially because the campus abuts the Mississippi River and lived a few blocks from the river in Dinkytown, Minneapolis for three years. He currently works at a health non-profit in New York City (which was generous enough to give him a three-month sabbatical), plays drums in country bands and operates a hostel for friends at his Brooklyn apartment.